Sign up for our newsletters here!
Me and White Supremecy by Layla Saad
Many of Stone Soup Café's staff and board members are participating in this fantastic book club, starting Sunday, September 26th. Together we will read (or re-read!) Me and White Supremacy by Layla Saad. Please join us in this learning journey!
Read the FAQs and REGISTER FOR THE BOOK CLUB HERE: https://airtable.com/shrv58scLLT64dnZt
What is "Me and White Supremacy"?
Me and White Supremacy is a life-changing book by Layla Saa on the topics of race, identity, leadership, personal transformation and social change.
What does doing "The Work" in Me and White Supremacy entail?
The book itself is split into twenty-eight chapters divided over the course of 28 days. Each chapter looks into one aspect of how white supremacy shows up in our everyday lives. Every chapter ends with a series of journal prompts for one to dig deeper into their own personal experience and complicity. Most chapters are less than 6 pages long, which means, depending on how deep you want to go with the journaling, each day's "work" (reading + journaling) could take no longer than 20 minutes.
What is involved with this Accountability Group?
If you decide to join this group you are signing up to join a group of people who are dedicated to spending a month of their lives really and truly doing the work involved in Me and White Supremacy. You will receive a daily email with page readings and a link to complete the journaling work via an online survey.
Who Facilitates the Group?
We are really all facilitated by the brilliant, Black author Layla Saad. It's her work and her words, we are just here to help you get it done. This accountability part of this group is facilitated by Lauren Worsham, a white woman who is also a Tony-nominated actress and singer who lives in LA with her husband and two children.
Posted: to Volunteer Newsletter on Sat, Sep 11, 2021
Updated: Sat, Sep 11, 2021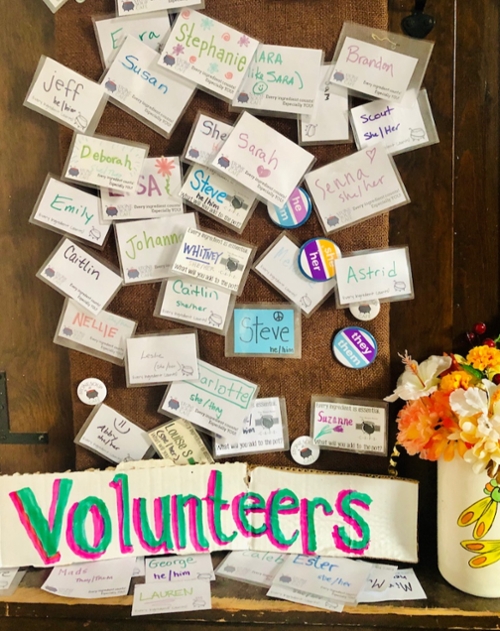 We need you!
A big THANK YOU to those who have already signed up to help out with the 17th Annual Harvest Supper Celebration this Sunday! And a big PLEASE PLEASE to those who haven't yet signed up. We are preparing food for 800 people. This community event cannot happen without YOU, the community. Come show your love for Greenfield!
P.S. All volunteers will get a wicked cute screen-printed apron! They are being screen-printed right now by Taproot Threads. ;)
Meal prep for Harvest Supper starts TOMORROW!
Click on the link to sign up for a shift that works for you this week:
>> Tuesday (TOMORROW!) 5-7 PM
>> Wednesday 5-7 PM
>> Thursday 3-5 PM and 5-7 PM
>> Saturday 4-7 PM
>> Sunday - all day!
We could especially use extra hands for the 3:30-5:00 PM Welcome Committee shift (which includes greeters, line managers, and some folks to run the merch table) and the 1:00-3:30 PM Appetizer Prep shift (which includes making beautiful flower arrangments!).
Many many thanks to you all.
See you on the town common this Sunday from 4-6pm (or even earlier, if you're helpin'!).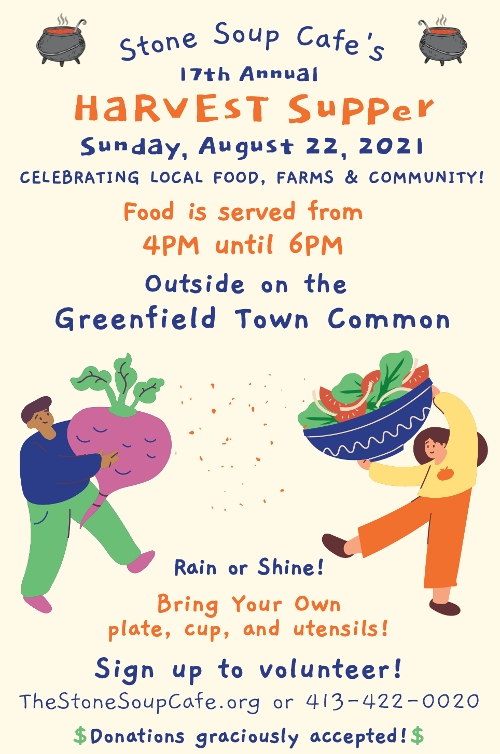 Posted: to Volunteer Newsletter on Mon, Aug 16, 2021
Updated: Mon, Aug 16, 2021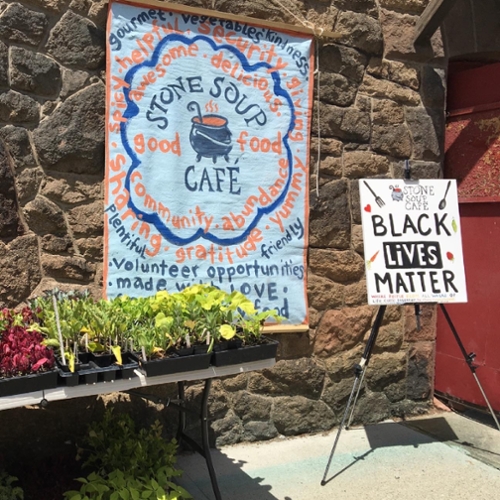 The work starts with each of us.
Because we are immersed in a pandemic, we haven't been able to do regular Volunteer trainings. But we'd like to keep you up-to-date on the Café's policies, so here's a little "booster-shot!"
-- PLEASE READ ALL THE WAY TO THE END --
As a Café Volunteer, it is essential that you understand Stone Soup's policy on antiracism:
We are committed to the ongoing work of building our beloved community, where all walks of life come together to share nourishment, connection, and learning for body, mind, and spirit.

We know we must work hard to promote solidarity with all our neighbors and challenge colonialism so that we can practice antiracism at all levels of our organization.

In order for Black, Indigenous, Latinx, Asian, and ALL people affected by racism to feel welcome and have a sense of belonging at the Café, we commit ourselves to the ongoing work of building relationships with all members of our community, especially those most exploited, oppressed, and marginalized.

We will practice antiracism through our daily actions at the Café by intentionally building a culture of inclusivity, justice, and transformation. We will network and reach out to all our neighbors through ongoing education and dialogue, collaboration with partner organizations, and engagement with social movements.

We are dedicated to this process of learning, and becoming antiracist.
This is who we are.
It's hard work, and it's heart work.
It means we will not tolerate racism at the Café. We will work together to learn from each other, and to mend and course-correct for any mistakes we make along the way.
We encourage you to engage in this work with us!
Here are two specific ways to plug in:
Join your fellow Stone Soup'ers and sign up for an accountability group! Together we will read (or re-read!) Me and White Supremacy by Layla Saad. This 28-day journey starts on September 26th. There will be weekly conversations about the book, and daily journaling prompts. Our goal is to get at least 15 folks from Stone Soup to sign up. Let us know if you're in! (Learn more by checking out these FAQs.)
Join our Solidarity Committee! We meet on the first Thursday of every month at 1pm. If you'd like to work on creating actionable antiracism policies, we welcome your ideas! Email info@thestonesoupcafe.org to get to Zoom link to the monthly meeting, or to share your thoughts.
Sending you all BIG BIG love,
Jansyn <3
Posted: to Volunteer Newsletter on Wed, Aug 11, 2021
Updated: Wed, Aug 11, 2021
Same same, but different.
Hello Beloved Volunteers!
I'm popping in to say "hi" and "we love you" and to give you some updates about the Café's COVID protocol.
We'd hoped that by now masks would be ancient history. But because we interact with vulnerable populations --and because some of our friends manage to contract COVID even after getting the vaccine(!)-- we are requiring MASKS ON both inside and outside the Café for all volunteers and staff for the indefinite future.
(Remember, guests are not required to mask-up while they are outside getting their meals.)
We did, however, do away with the temperature-taking requirement during check in! Woohoo! Be gone, fidgety and inaccurate thermometers!! Now you only need to check in for your shift using the tablet.
Thanks everyone for bearing with us through all these precautionary inconveniences. We love you all for sticking with us and taking this all in stride.
Be well and see you soon,
Jansyn Thaw (she/her), Director of Programs, Stone Soup Café
P.S. Sign up to volunteer here!
Posted: to Volunteer Newsletter on Fri, Jul 2, 2021
Updated: Fri, Jul 2, 2021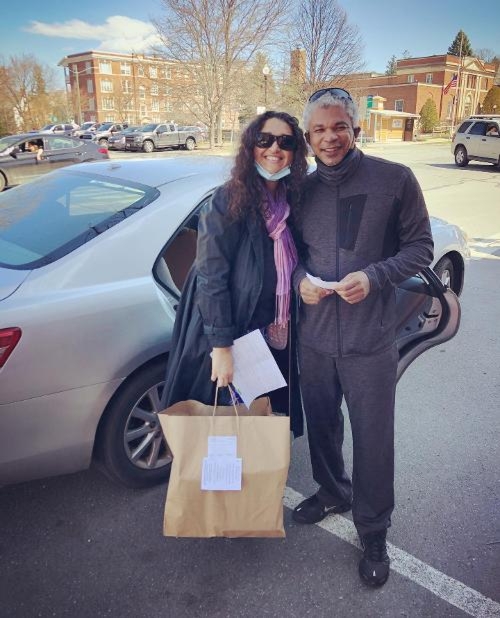 Stone Soup Café hosted a conversation about racism last week focused on the life experiences of three local Black community members
Conversations about Race
Stone Soup Café hosted a conversation about racism last week focused on the life experiences of three local Black community members: Jeanne Hall, Richard "Dick" Hall, and Gloria Matlock. They discussed their thoughts and feelings about the murder of George Floyd, the storming of the Capitol on January 6th, and how can we work together to build community with one another. The panel was moderated by Allen Davis, an educator and racial justice activist. He posed four questions to the panelists and they each had a chance to reflect, as the rest of the attendees just listened -- an exercise in bearing witness.
"You can't just sit at home on your couch reading a book about race," said Jeanne Hall. "You have to put yourself out of your comfort zone, meet other people, talk to other people, get involved in doing community service. It has to come from within, and you have to want it."
"People need to have the courage to find out the truth about America, and then tell that truth to our children. Only then will we have more hope to work together," said Gloria Matlock. Gloria suggests that white folks tap into local racial justice groups, like Racial Justice Rising. "I see a lot of groups working on racial justice almost as a competition, not as one goal, one aim. If we instead think about it as something we need desperately, we need to work hard and fast, and work together. The clock is ticking."
Dick and Jeanne Hall have lived in Franklin County since 1992, "When we moved here, there were very few Black and brown people, but now you see many more," said Jeanne. What will Franklin County look like when racial equity is achieved? "Franklin County will look like a rainbow! You'll have different races, religions, all sorts of different people," said Jeanne. "I'm damn proud of Franklin County," said Dick. "I don't see the future of Franklin County as counting the numbers of different types of folks, but looking at their hearts."
Stone Soup Café will be hosting a second Conversation about Racism this Sunday evening, April 18th at 6:30pm on Zoom.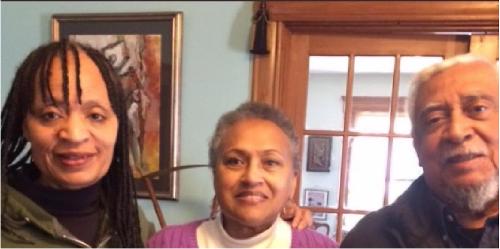 Pay-For-A-Neighbor!
Sneak Peek! Our Annual Meal Appeal is launching publicly on May 1st! Our goal is to raise $1,000 in weekly recurring donations. We are asking YOU, our beloved community, to pay-it-forward! Can you donate $10/week to pay for a neighbor's meal?
The link is live for those who want to donate now!
| | | |
| --- | --- | --- |
| Volunteer News! | ... | Community Happenings! |
| > DRESS CODE REMINDER: Warm weather is upon us! As the weather gets nicer, please remember to wear close-toed shoes and a shirt with sleeves if you are doing food prep. Alas, we cannot wear our flippity-flops or tank tops while we're in the kitchen. | | // Sunday, April 18 // Conversation About Race: Taking Action! Our panelists from last week have inspired us! Now it's up to us to take action towards racial justice in Franklin County. If you care about racial justice, join this conversation! The moderator will be Allen Davis, an educator, and racial justice activist. 6:30-8pm (zoom link) |
| > Want to engage with Stone Soup beyond chopping veggies and packing meals? Join our FUNDRAISING TEAM! We meet once a month on the 2nd Monday from 6-7:30pm. We discuss upcoming events, the Café's income stream, budgets, fundraising, and more! We'd love to hear your creative ideas about how the cafe can be more financially sustainable-- we want you on the team! Email us! | | // Monday, April 26 // The discussion of "Mutual Aid" by Dean Spade continues! Join us from 6:30-8pm to just talk about Chapter 5! This juicy chapter covers themes like: Group Culture, Leadership, Burnout, Conflict, and Joy. (zoom link) |
| > Did you know volunteering usually drops off during the summer months? Before everyone disappears for the summer, introduce someone new to the Café and BRING A FRIEND TO VOLUNTEER! P.S. Volunteer shifts are now open for the month of May! Get 'em while they're hot! | | // Thursday, April 29 // Stone Soup is starting a learning cohort about Trauma Informed Community Building! It will involve a commitment of 8 virtual training sessions over the next 3 months, plus it will get you connected to the work we will be doing on the ground to engage our community! If you're interested, send us an email! |
Volunteer Spotlight!
April is officially volunteer appreciation month! But we appreciate you EVERY month!! So far this year, our volunteers have spent 1,785 combined hours cooking, serving, and delivering meals to our community. WOW!
Today we are giving a special shoutout to these two delivery drivers, Nadine and Peter Mazard! Nadine has been volunteering with Stone Soup since March 2017. She started volunteering with her son in honor of the anniversary of her mom's passing in March 2016 who loved to feed others in Southern California and Mexico. Peter started volunteering with Nadine in January 2021 in honor of Martin Luther King as part of their service work commitment, "we decided to help Stone Soup together whenever our schedule allows," says Peter.
"Our favorite thing is that knowing that we are delivering delicious and very nutritious meals to people in need or who want to continue to partake in our community meal. We are happy that Stone Soup has adjusted its creativity to spread its love through food. We love how organized the bags are and the list with notes. We are thrilled that we are able to deliver safely with our masks in our car and at a distance and in our own pod. Plus, Peter and I make a great team making smoother delivery of meals as I drive and Peter takes the meals inside or to the door."
When they aren't delivering meals for Stone Soup they love to walk, especially at sunset, and Nadine has started taking pictures and posting them on her IG @nadinemazard They love to cook fresh and healthy meals together. "We are social justice advocates trying to encourage others to be AntiRacist and create equity for all."
Posted: to Volunteer Newsletter on Wed, Apr 14, 2021
Updated: Mon, Apr 26, 2021
>> Volunteer shifts are up on Track-it-Forward for the month of April! Sign up early, and often!
>> Don't forget to RSVP for a meal if you want to take one home after you volunteer on a Saturday. It's an easy link to remember (and it never changes) -- bit.ly/need-meals
>> Get ready to switch back to the summer Café set-up! Starting in April, we'll be shifting more of our operations back outdoors. The warm weather is finally here to stay!
>> Fun Food Safety Tip! As things heat up, wearing tank-tops during food prep might be very tempting, but alas, they don't meet the FDA food safety requirements. We ask that everyone wear sleeved shirts (even if they're short sleeves!). Looking for a go-to Café tee? We have super cute free volunteer t-shirts for anyone who would like one. Just ask!
Community Happenings!
Things are happening in April!
//April 1// Stone Soup volunteer, Marjorie Morgan, has organized an art show called "Nothing Stable Under Heaven; A Showcase of Black Art" which opens April 1 at the Oxbow Gallery in Northampton! The reception is Saturday, April 10, 2021, 3-6pm. Artists include Stone Soup Board Member Gloria Matlock!
//April 9// Stone Soup is co-sponsoring a film screening of "Dope is Death" with Wildflower Alliance, The People's Medicine Project, and Recover Project. "Dope Is Death" is "the story of how Dr. Mutulu Shakur, along with fellow Black Panthers and the Young Lords, combined community health with radical politics to create the first acupuncture detoxification program in America. Watch the film with us and join us for a discussion: tiny.cc/h5eutz
//April 11// Save the date! - An evening panel discussion on race, hosted by some beloved POC community members from the Greenfield community. More details forthcoming! Stay tuned!
//April 13// The discussion of "Mutual Aid" by Dean Spade continues! Join us from 6:30-8pm to talk specifically about the first few chapters of the book (Chapters 1-4). Themes will include: What is Mutual Aid?, Solidarity Not Charity, Dangers and Pitfalls. If you've read the chapters and want to join in, RSVP here: https://forms.gle/1HrCDNC76Ngv2RJ99
//April 26// The discussion of "Mutual Aid" by Dean Spade continues... again! Join us once more from 6:30-8pm to just talk about Chapters 5! This juicy chapter covers themes like: Group Culture, Leadership, Burnout, Conflict, and Joy. I mean, come on. So juicy!!
Volunteer Spotlights!
Y'all are incredible! In the past two months, you've contributed upwards of 800 hours of your time to keep the Café's ship sailing. We couldn't be more humbled by your dedication. Wow!
Special shout out to folks on our **Volunteer Leaderboard** for February and March!!! Racking up those hours! Very impressive Diane, Charlotte, Louise, Daniel, Trouble, et al.!
(P.S. The leaderboard only spotlights folks with Track-it-Forward accounts, just FYI. Make an account! It's fun!).
Our special **Volunteer Spotlight** this month is one of the many incredible delivery drivers -- Elyse Bianchet! Here's a little profile on Elyse (who also goes by Ely):
• How long have you been volunteering with Stone Soup?
I volunteered a few times years ago but started doing so regularly last April because I'm healthy and low risk and wanted to help out.
• How did you hear about Stone Soup originally?
I originally heard about Stone Soup in 2013 when I was at GCC. Ari Pliskin came and did a presentation about the organization in one of my Human Services classes. I was in the Human Services club, which did a fundraiser for Stone Soup, and I volunteered a few times after that.
• How do you fill your time when you're not delivering meals for Stone Soup!?
I work for the University of Massachusetts Medical School-Baystate as a Research Assistant on various projects that seek to study and address the opioid crisis in our region. In my free time, I love being in the woods with my dogs and my partner Nick, and music—whether making it or just listening, but especially seeing it live, at concerts, bars, or festivals, with friends. It's the thing I've missed most in the last year and what I most look forward to on the other side.
• What's your favorite thing about volunteering?
My favorite part of volunteering is getting to know the wonderful people on my route, and getting to be part of such an amazing organization. I know how much I enjoy the meals, and am so glad to be able to facilitate that enjoyment for others.
Posted: to Volunteer Newsletter on Fri, Mar 26, 2021
Updated: Mon, Apr 26, 2021
The volunteer perks keep on coming!
Exciting Announcement!
To all our volunteers, we have a FREE gift that shows our appreciation to you AND increases everyone's safety at the Café!!!
In light of the new CDC recommendation, instead of requiring double-masking at the Café, we are providing everyone with a customized fabric mask and filter insert-- four gorgeous layers of protection, so that we can keep doing this critical community work together. The masks are SUPER DUPER comfortable and have our cute lil' Stone Soup logo screen printed on them by our fave local screen printer Tap Root Threads!
Next time you come to the Café for a volunteer shift, you will receive this FREE GIFT. We're elevating the whole Stone Soup Crew!! Level up with us.
See you soon <3
Jansyn
Posted: to Volunteer Newsletter on Fri, Feb 19, 2021
Updated: Fri, Feb 19, 2021
Oh, hello! We just wanted to let you know about a few things!
First of all, we'd like to celebrate these two volunteers who have been showing up to deliver meals every Saturday since June 2020! WOW! Thanks, Pamela & Donna! Here's a little interview with them:
Every Saturday, these two friends Pamela McBride and Donna Mollard, roll up to Stone Soup Café eager to load up their car to the brim with hot meals and deliver them around the community.
Pamela has been a volunteer at Stone Soup Café for about 3 years. "I was looking to help the community, and the Café seemed like a good fit...and it is! It is such a beautiful way to connect with our community - I love the interaction, the smiles, the conversation, and knowing I am making a small but positive differences." In pre-COVID times, Pamela helped out in the Front of House, serving meals and interacting with guests. Now, delivering meals on Saturday is one of the highlights of her week, but she says it's hard not to interact with people face-to-face like she used to.
Outside of Stone Soup, Pamela works in Information Services at the Greenfield Public Library. She's also an avid reader, gardener, knitter, and in the last year, an enthusiastic walker. Donna used to run a local bed and breakfast, and now she works at a local cleaning company. She also helps out her neighbors with whatever they may need: "We all take good care of each other," she says.
"It is our pleasure to deliver your amazing food made with so much love," says Donna, "We love seeing how happy and appreciative people are when we leave their meals for them. It keeps us connected to our wonderful community."
Community Happenings:
Our monthly virtual Café hangout is coming up! Many of you have wondered what recipes we use, how we plan our menus, or even simply how to cut an onion like a pro! Chef Kirsten bares all this Sunday at 6:30pm during our Zoom Hangout! Ask the Chef everything you ever wanted to know about flavors, recipes, and how the meals come together every Saturday. Pop in!

---

Stone Soup Café is hosting a book club! We'll be reading "Mutual Aid: Building Solidarity During This Crisis (and the Next)" by Dean Spade, a trans lawyer/activist/organizer who has been working to build queer and trans liberation based in racial and economic justice. This first book club session will be facilitated by Boone Shear, board member of Stone Soup Café and professor of Anthropology at UMass. It will be low pressure, low stakes, with lots of room for us to share ideas and then come up with some potential next steps! All you need to do is show up having read some or all of the book. (It's a short one, don't worry!). Our discussion will take place virtually on Sunday, March 7th at 6:30pm. Email us if you'd like more info!

---

Check out this 30-minute HIP Outreach Training that CISA is hosting -- happening TOMORROW at noon via Zoom. Many SNAP recipients don't realize they have access to HIP benefits, and don't take advantage of this great opportunity to get fresh fruits and vegetables for free! It's good to know about if you're talking to anyone who uses food stamps! It's such a great benefit, and totally underused! Register for the little free workshop here, or just pop into the Zoom call at 12pm tomorrow: https://us02web.zoom.us/j/85444366131
And as always, sign up to volunteer!
That's all for now!
Jansyn Thaw & The Stone Soup Crew
Posted: to Volunteer Newsletter on Wed, Feb 17, 2021
Updated: Wed, Feb 17, 2021
Support Stone Soup's Neighboring Orgs!
Hi Stone Soup Volunteers!!
First of all, we have some open volunteer spots for tomorrow's meal. Is anyone available to help out? It's going to be a beautiful, sunny, warm (36 degrees!) day. Sign up here for meal-packing or outdoor service starting at 11:30am --> https://www.trackitforward.com/site/566431/event/571355
There are also some other volunteer opportunities with amazing neighborhood orgs who are looking for an extra hand or two --
Our beloved Melanie Highlander from the Franklin County Community Meals Program is looking for volunteers to help with food pantry distribution for Tuesdays and Wednesdays from 4 PM - 5:30 PM at the Second Congregational Church. Send an email to melanie.highlander@gmail.com or call 413-325-7901 if you're interested in learning more!
Also, The Center for Self Reliance could use a bit of support in their incredible new location. Their food pantry has grown and moved to Main Street! If you haven't met Justin Costa yet, you are in for a treat! He is a gentle, caring, friendly soul. Reach out to Justin and he'll let you know how you can help out: jcosta@communityaction.us.
See all you lovely folks soon(er or later)!
<3 Jansyn Thaw
Director of Programs and Marketing, Stone Soup Café
Posted: to Volunteer Newsletter on Fri, Feb 5, 2021
Updated: Fri, Feb 5, 2021