Stone Soup Weekly Saturday Meal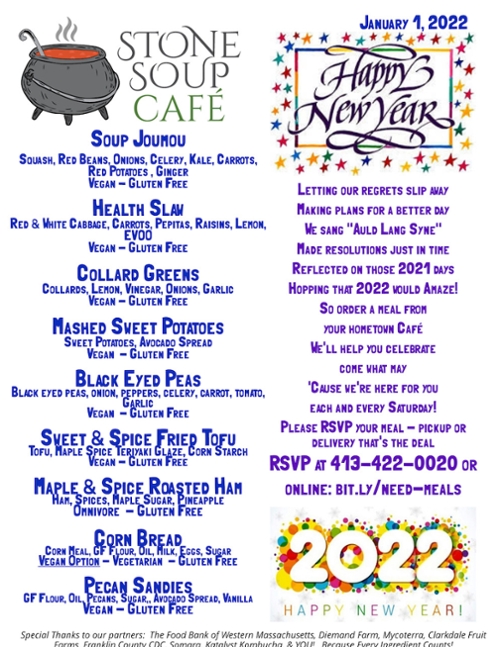 Saturday, January 1, 2022, 12:00 pm until 1:30 pm
399 Main Street, Greenfield, MA - Red Door on Hope Street
Happy New Year from Stone Soup Café!
We'll be enjoying Haitian Joumou Soup this January 1st, which is not only an incredibly flavorful, hearty, and warming dish, but it has a powerful story behind it.
For Haitians, Joumou Soup is synonymous with freedom. The story goes that during the French colonial rule of Haiti, enslaved Africans were forced by their oppressors to cultivate squash for this dish but were not allowed to eat it. When Haitians won their independence on January 1, 1804, they ate Joumou Soup to celebrate.
Check out Leah Penniman of Soul Fire Farm sharing her story and a recipe for Joumou Soup: https://www.pbs.org/food/kitchen-vignettes/leah-pennimans-soup-joumou/
RSVP for this delicious Saturday lunch HERE!
REMINDER: you don't need to RSVP for a meal if you already have a reoccurring order.
---> Pay-What-You-Can for your meal here!
---> Pay-For-A-Neighbor's meal here!
---> Volunteer to cook, serve, or deliver the meal here!
Thank you for being a part of the Stone Soup Café!
With Love, Chef Kirsten & the Stone Soup Café crew
Menu 1- 01-22.jpeg (2021-12-29 at 12:13 PM)
Posted to: Saturday Menu.