Stone Soup Saturday Meal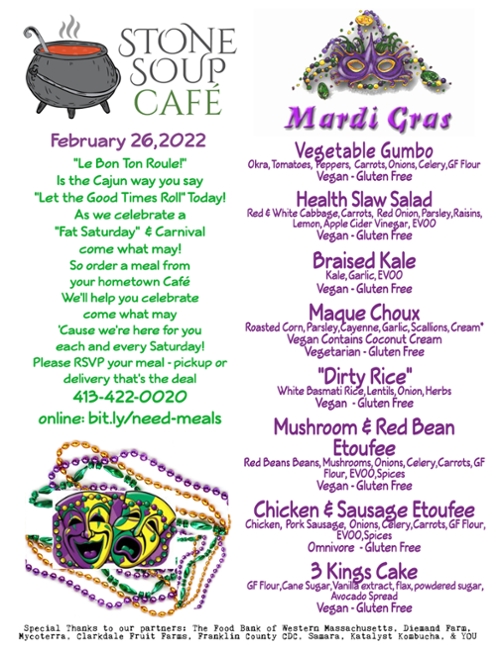 Saturday, February 26, 12:00 pm until 1:30 pm
399 Main Street, Greenfield, MA - Red Door on Hope Street
Join us this Saturday to celebrate Mardi Gras!
Or rather... Samedi Gras! Fat Saturday!
Mardi Gras is a Christian holiday and popular cultural phenomenon that dates back thousands of years to pagan spring and fertility rites. Also known as Carnival or Carnaval, it's celebrated in many countries around the world—mainly those with large Roman Catholic populations—on the day before the religious season of Lent begins.
Traditionally, in the days leading up to Lent, merrymakers would binge on all the rich, fatty foods—meat, eggs, milk, lard and cheese—that remained in their homes, in anticipation of several weeks of eating only fish and different types of fasting. (source: history.com)
RSVP for this delicious Saturday lunch HERE!
RSVPs for delivery close Friday at 5 PM, but walk-up orders are ALWAYS welcome!
---> Pay-What-You-Can for your meal here!
---> Pay-For-A-Neighbor's meal here!
---> Volunteer to cook, serve, or deliver the meal here!
With BOUNDLESS Love,
Chef Kirsten & the entire Stone Soup Café crew
Posted to: Saturday Menu