Stone Soup Saturday Meal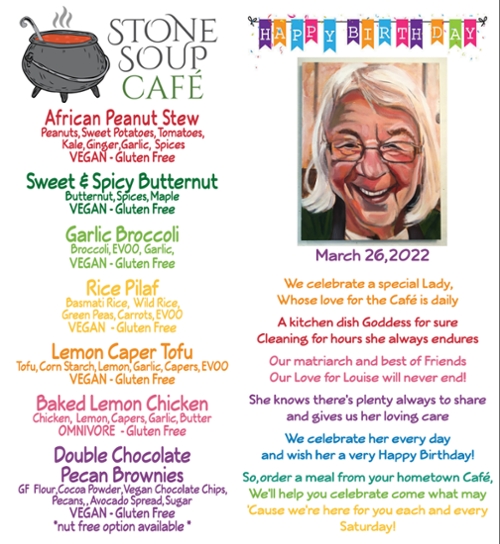 Saturday, March 26, 2022, 12:00 pm until 1:30 pm
399 Main Street, Greenfield, MA - Red Door on Hope Street
Join us this Saturday to celebrate LOUISE!
We celebrate a special Lady,
Whose love for the Café is daily
A kitchen dishwashing Goddess for sure
Cleaning for hours she always endures
Our matriarch and best of Friends
Our Love for Louise will never end!
She knows there's plenty always to share and gives us her loving care
We celebrate her every day
and wish her a very Happy Birthday!
So, order a meal from your hometown Café,
We'll help you celebrate come what may
'Cause we're here for you each and every Saturday!
RSVP for this delicious Saturday lunch HERE!
RSVPs for delivery close Friday at 5 PM, but walk-up orders are ALWAYS welcome!
---> Pay-What-You-Can for your meal here!
---> Pay-For-A-Neighbor's meal here!
---> Volunteer to cook, serve, or deliver the meal here!
With BOUNDLESS Love,
Chef Kirsten
Posted to: Saturday Menu.