Stone Soup Café Saturday Meal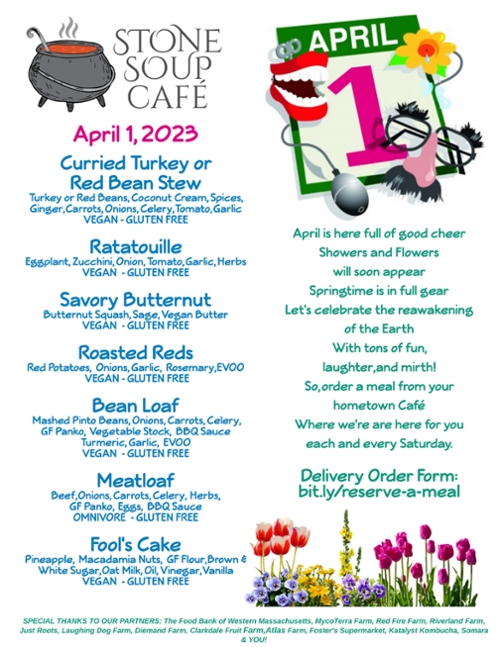 Saturday, April 1, 12:00 pm until 12:30 pm
399 Main Street, Greenfield, MA - Red Door on Hope Street
Join us this Friday & Saturday at Stone Soup Café
This Friday we are presenting our very first OPEN MIC at 399 Main Street at 6pm! See below for details!
April is here full of good cheer!
Showers and Flowers will soon appear
Springtime is undoubtedly in full gear
Let's celebrate the reawakening of the Earth
With tons of fun, laughter, and mirth!
So, order a meal from your hometown Café
Where we're here for you each and every Saturday.
Delivery Order Form: bit.ly/reserve-a-meal
---> Free Meal Delivery!
Join us at Stone Soup (upstairs in the sanctuary) for our inaugural open mic hosted by our volunteer and new board member, Matt Goulet!
This is a great FREE event to perform, listen, and eat some tasty snacks with your friends and neighbors!
All ages. All skills levels.
Sign-ups start at 5:30pm, music kicks off at 6pm.
Volunteer at the Café beforehand for the *full* Stone Soup experience! bit.ly/StoneSoupVolunteer
We will provide mics and amplification. There is even a piano!
We're hoping this is the first of many future open mics on Friday evenings at the Café. JOIN THE FUN!
Posted to: Saturday Menu on 2023-03-15 13:28:02 (updated 2023-10-18 15:51:41).