April Community Happenings & Volunteer News
Stone Soup Café hosted a conversation about racism last week focused on the life experiences of three local Black community members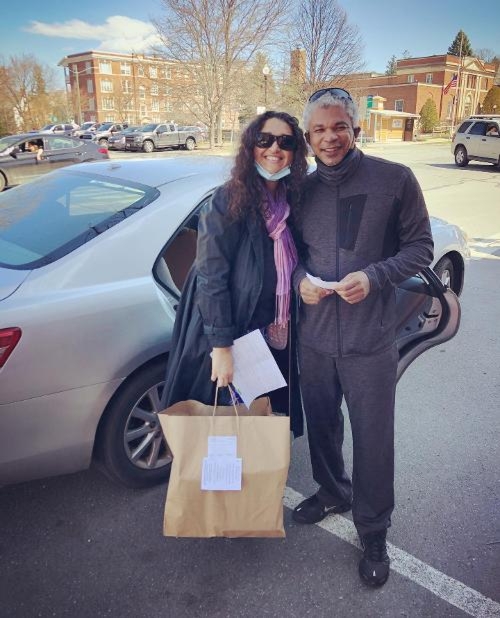 Conversations about Race
Stone Soup Café hosted a conversation about racism last week focused on the life experiences of three local Black community members: Jeanne Hall, Richard "Dick" Hall, and Gloria Matlock. They discussed their thoughts and feelings about the murder of George Floyd, the storming of the Capitol on January 6th, and how can we work together to build community with one another. The panel was moderated by Allen Davis, an educator and racial justice activist. He posed four questions to the panelists and they each had a chance to reflect, as the rest of the attendees just listened -- an exercise in bearing witness.
"You can't just sit at home on your couch reading a book about race," said Jeanne Hall. "You have to put yourself out of your comfort zone, meet other people, talk to other people, get involved in doing community service. It has to come from within, and you have to want it."
"People need to have the courage to find out the truth about America, and then tell that truth to our children. Only then will we have more hope to work together," said Gloria Matlock. Gloria suggests that white folks tap into local racial justice groups, like Racial Justice Rising. "I see a lot of groups working on racial justice almost as a competition, not as one goal, one aim. If we instead think about it as something we need desperately, we need to work hard and fast, and work together. The clock is ticking."
Dick and Jeanne Hall have lived in Franklin County since 1992, "When we moved here, there were very few Black and brown people, but now you see many more," said Jeanne. What will Franklin County look like when racial equity is achieved? "Franklin County will look like a rainbow! You'll have different races, religions, all sorts of different people," said Jeanne. "I'm damn proud of Franklin County," said Dick. "I don't see the future of Franklin County as counting the numbers of different types of folks, but looking at their hearts."
Stone Soup Café will be hosting a second Conversation about Racism this Sunday evening, April 18th at 6:30pm on Zoom.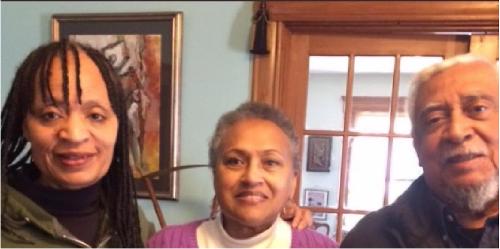 Pay-For-A-Neighbor!
Sneak Peek! Our Annual Meal Appeal is launching publicly on May 1st! Our goal is to raise $1,000 in weekly recurring donations. We are asking YOU, our beloved community, to pay-it-forward! Can you donate $10/week to pay for a neighbor's meal?
The link is live for those who want to donate now!
| | | |
| --- | --- | --- |
| Volunteer News! | ... | Community Happenings! |
| > DRESS CODE REMINDER: Warm weather is upon us! As the weather gets nicer, please remember to wear close-toed shoes and a shirt with sleeves if you are doing food prep. Alas, we cannot wear our flippity-flops or tank tops while we're in the kitchen. | | // Sunday, April 18 // Conversation About Race: Taking Action! Our panelists from last week have inspired us! Now it's up to us to take action towards racial justice in Franklin County. If you care about racial justice, join this conversation! The moderator will be Allen Davis, an educator, and racial justice activist. 6:30-8pm (zoom link) |
| > Want to engage with Stone Soup beyond chopping veggies and packing meals? Join our FUNDRAISING TEAM! We meet once a month on the 2nd Monday from 6-7:30pm. We discuss upcoming events, the Café's income stream, budgets, fundraising, and more! We'd love to hear your creative ideas about how the cafe can be more financially sustainable-- we want you on the team! Email us! | | // Monday, April 26 // The discussion of "Mutual Aid" by Dean Spade continues! Join us from 6:30-8pm to just talk about Chapter 5! This juicy chapter covers themes like: Group Culture, Leadership, Burnout, Conflict, and Joy. (zoom link) |
| > Did you know volunteering usually drops off during the summer months? Before everyone disappears for the summer, introduce someone new to the Café and BRING A FRIEND TO VOLUNTEER! P.S. Volunteer shifts are now open for the month of May! Get 'em while they're hot! | | // Thursday, April 29 // Stone Soup is starting a learning cohort about Trauma Informed Community Building! It will involve a commitment of 8 virtual training sessions over the next 3 months, plus it will get you connected to the work we will be doing on the ground to engage our community! If you're interested, send us an email! |
Volunteer Spotlight!
April is officially volunteer appreciation month! But we appreciate you EVERY month!! So far this year, our volunteers have spent 1,785 combined hours cooking, serving, and delivering meals to our community. WOW!
Today we are giving a special shoutout to these two delivery drivers, Nadine and Peter Mazard! Nadine has been volunteering with Stone Soup since March 2017. She started volunteering with her son in honor of the anniversary of her mom's passing in March 2016 who loved to feed others in Southern California and Mexico. Peter started volunteering with Nadine in January 2021 in honor of Martin Luther King as part of their service work commitment, "we decided to help Stone Soup together whenever our schedule allows," says Peter.
"Our favorite thing is that knowing that we are delivering delicious and very nutritious meals to people in need or who want to continue to partake in our community meal. We are happy that Stone Soup has adjusted its creativity to spread its love through food. We love how organized the bags are and the list with notes. We are thrilled that we are able to deliver safely with our masks in our car and at a distance and in our own pod. Plus, Peter and I make a great team making smoother delivery of meals as I drive and Peter takes the meals inside or to the door."
When they aren't delivering meals for Stone Soup they love to walk, especially at sunset, and Nadine has started taking pictures and posting them on her IG @nadinemazard They love to cook fresh and healthy meals together. "We are social justice advocates trying to encourage others to be AntiRacist and create equity for all."
Posted: to Community Newsletter on Wed, Apr 14, 2021
Updated: Mon, Apr 26, 2021