Stone Soup Café Community Survey!
It'll only take you 2 minutes!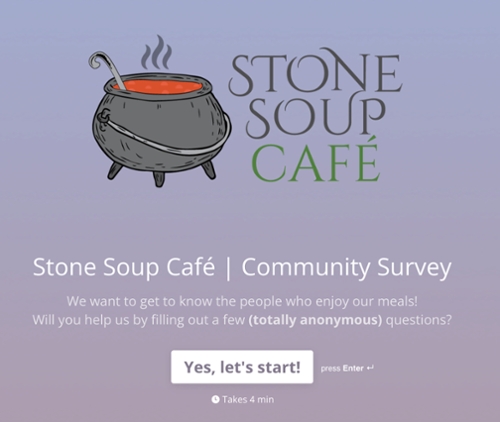 The Café is launching a project to learn more about how Stone Soup Café can better meet the needs of our community! This is a lil' survey to get us started with some dialogue.
Fill out the quick survey:
If you're interested in joining a working group to design future surveys and facilitate conversations, you can let us know at the end of the survey.
There will be more surveys and community conversations to come!
We will also be interviewing folks in person at the Café. Sign up to be a survey-taker on Saturdays! bit.ly/StoneSoupVolunteer
Posted: to General Newsletter on Wed, Oct 6, 2021
Updated: Wed, Oct 6, 2021